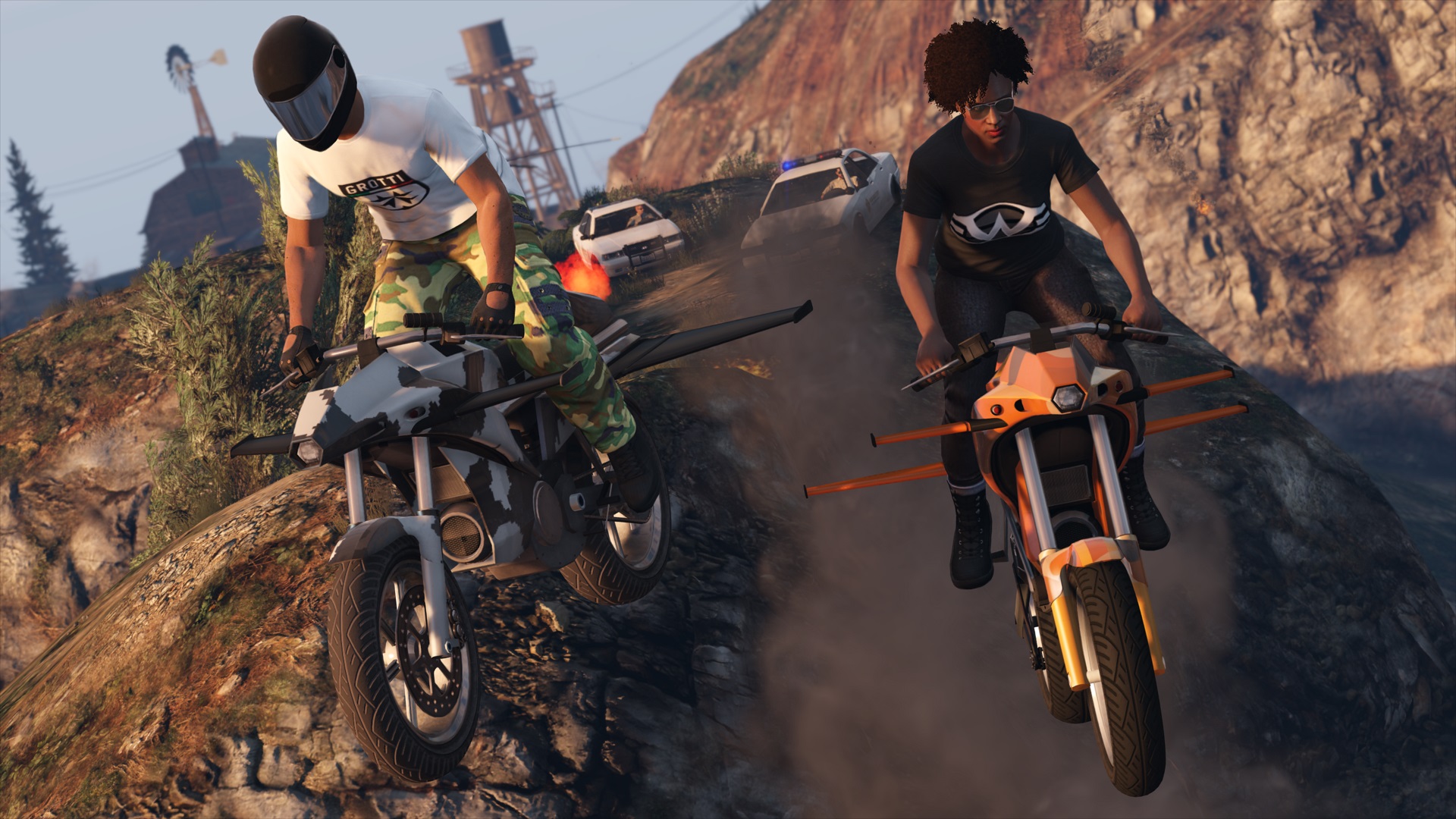 Play anytime between now and January 7th to receive the Grotti & Weeny T-Shirts free of charge.

In addition to the Arena War Series continuing to pay out 2X GTA$ & RP, jump into any of the following activities through January 7th to reap double rewards:
Client Jobs (Terrorbyte Missions)
Biker Contract Missions
Gunrunning Sales
Special Cargo Sales
Smuggler's Run Cargo Sales
Plus, earn Double GTA$ on Nightclub income and treat your Bodyguards and Associates to a holiday bonus with Double GTA$ Salaries.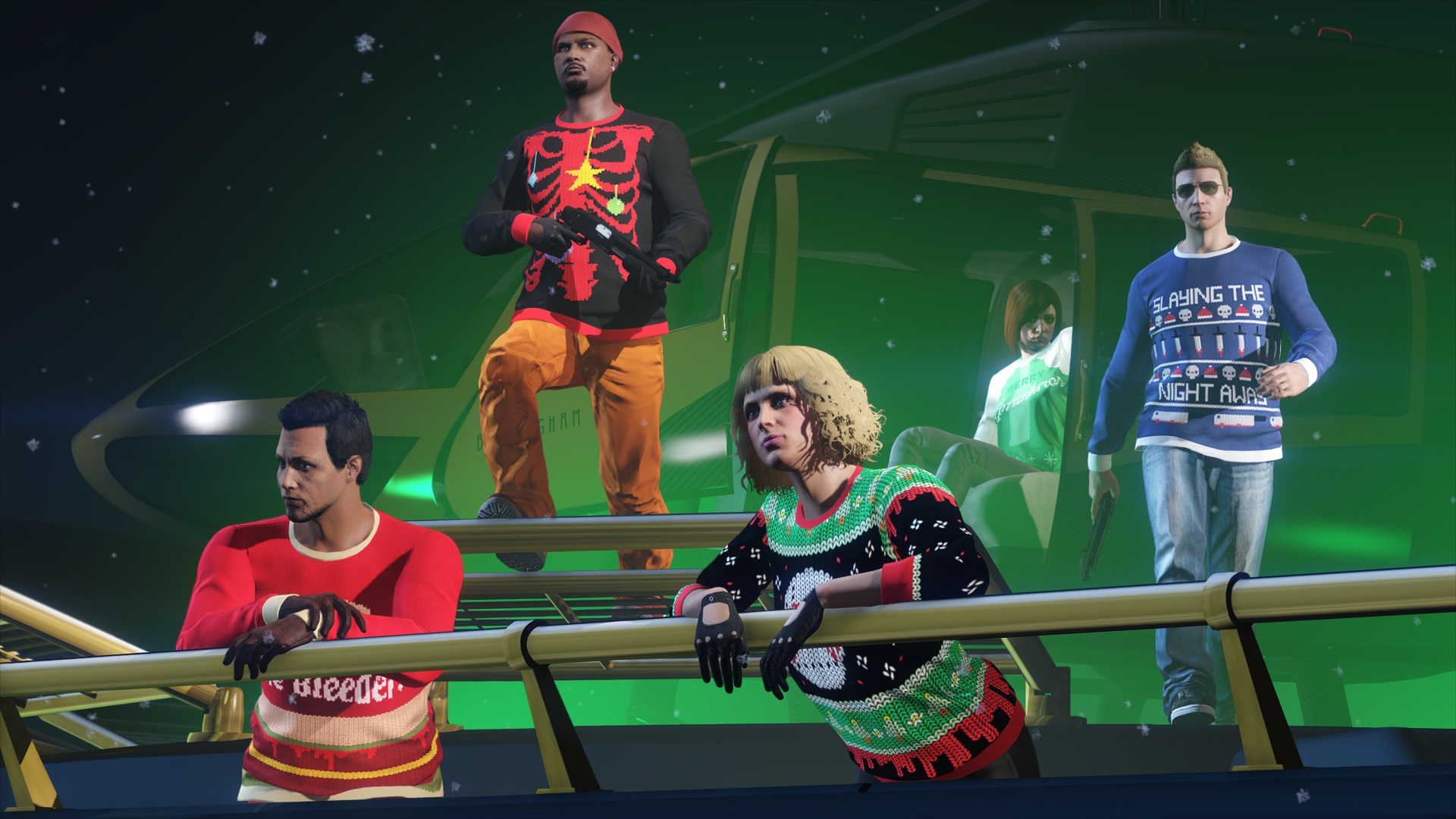 In addition to the festively adorned Vapid Clique, play today and also receive a bounty of Christmas Day gifts that includes the Up-n-Atomizer Pistol, Liveries for Chernobog, the Slasher Festive Sweater, and enough throwable explosives to start a large-scale conflict. Then, play every day this week to receive even more holiday gifts:
Dec. 25 – Vapid Clique, Up-N-Atomizer Pistol, Slasher Festive Sweater, 5 Festive Liveries for the Chernobog, Firework Launcher w/ 10 Firework Rockets, 25 Sticky Bombs, 25 Grenades, 5 Proximity Mines, 5 Molotovs, Full Snacks & Armor
Dec. 26 – Blue Bleeder Festive Sweater & Festive Liveries for the Mammoth Avenger
Dec. 27 – Green Slaying Festive Sweater & Festive Liveries for HVY Barrage
Dec. 28 – Hail Santa Festive Sweater, Free Nagasaki Buzzard & Festive Liveries for the APC
Dec. 29 – Blue Cluckin' Festive Sweater & Festive Liveries for Buckingham Akula
Dec. 30 – Merry Sprunkmas Festive Sweater & Festive Liveries for Comet Safari
Dec. 31 – New Year's Eve Gift (Black & Red Bones Festive Sweater, Fireworks and more), free HVY Insurgent Pick-Up & Festive Liveries for the Pegassi Oppressor
Jan. 1 – New Year's Day Gift (Red Bones Festive Sweater, Fireworks and more)

Through January 7th, get a leg up on your Organization's profits with up to 50% off the following:
Hangars – 50% off
Bunkers – 35% off
Mobile Operation Centers – 35% off
Take 25% off ALL Smuggler's Run Aircraft, including:
Buckingham Alpha-Z1
Buckingham Howard NX-25
Buckingham Pyro
Mammoth Mogul
Mammoth Tula
Nagasaki Havok
Nagasaki Ultralight
Western Company Rogue
Western Company Seabreeze
FH-1 Hunter
LF-22 Starling
P-45 Nokota
P-996 Lazer
RM-10 Bombushka
V-65 Molotok
And for the same period take 25% off ALL Gunrunning Weaponized Vehicles:
BF Dune FAV
Bravado Half-track
Declasse Weaponized Tampa
HVY APC
HVY Insurgent Custom Pick-Up
Nightshark
Karin Technical Custom
Ocelot Ardent
Pegassi Oppressor
Vom Feuer Anti-Aircraft Trailer
For more information on all the latest GTA Online bonuses and coming Arena War events, head to the Social Club Events page.